Folly Beach condo near Charleston, SC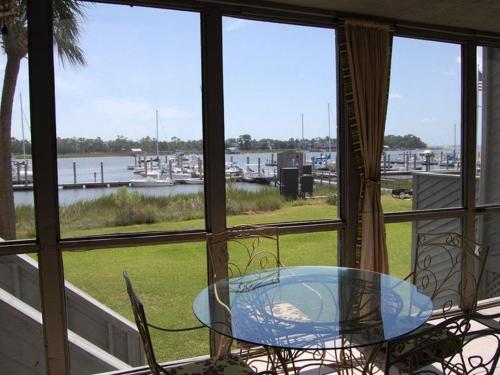 This vacation home is a one-level, two bedroom, two-bath condominium in the gated Mariner's Cay complex in Folly Beach, South Carolina, USA. The home is situated directly on the Folly River and has great views of the river, the sunsets and the activity at the Mariner's Cay Marina.
Click HERE for Mariner's Cay reservation information.
The screened porch overlooking the back yard and the marina is a great place for dining, reading and relaxing. The master bedroom opens to the porch as does the main living area. The entire condominium has just undergone complete redecorating and refurbishment with new floors inside, ceramic tile on the porch and new furnishings, including twin beds in the guest room.
The home is all on one level with only a short set of stairs from the parking area to the front door and another set off of the porch into the back yard. We love having direct access to the back yard and the marina area.
The home is well-maintained and nicely furnished with all of the expected conveniences including cable TV and DVD player.
The complex has two lighted tennis courts, a large pool and is a great place from which to launch your adventures -- kayaking, boating and fishing the river, riding bikes, surfing and long walks in and around Folly Beach are some of the favorite activities. The beach is less than a mile away by car, bike or walking. Historic downtown Charleston is a 15 minute drive.