Deer Lodge at Cedar Mountain near Brevard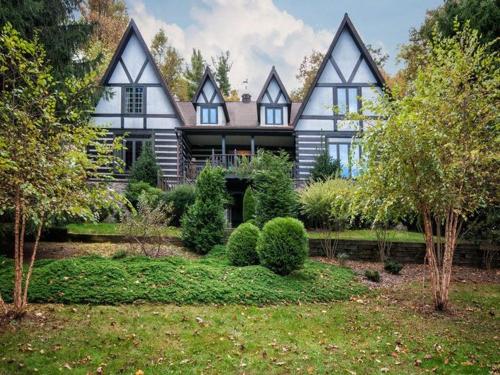 Deer Lodge in Cedar Mountain, NC is a classic English Tudor style log home beautifully situated high on a hill above a meadow and with a spectacular mountain view. You will see that the decor, furnishings and custom interior features are reminiscent of an English country lodge.
Beautiful downtown Brevard, NC, with it's hometown charm, festivals and ambiance is just a few minutes drive. Asheville, NC (home of the world famous Biltmore Estate) and Greenville, SC and all of their attractions are within easy driving distance as well.
Click HERE for Deer Lodge reservation information.
Recreation abounds nearby as the property, sitting squarely on the NC/SC state line, abuts South Carolina's Jones Gap State Park. Along with Caesar's Head State Park, Jones Gap is a part of the 11,000 acre Mountain Bridge Wilderness Area. Deer Lodge guests will have access to the hiking trails and the wild and scenic Middle Saluda River right from the back door.
On the North Carolina side, it is only a 5 mile drive to DuPont State Recreational Forest for mountain biking or hiking while visiting the park's magnificent waterfalls. The park also just served as the setting for the filming of "The Hunger Games". Transylvania County, North Carolina is also home to Pisgah National Forest and Jocassee Gorges State Park. This "Land of Waterfalls" is your personal playground when you are a guest at Deer Lodge.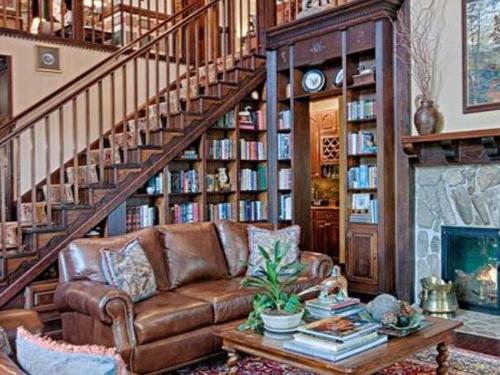 Deer Lodge in Cedar Mountain, NC is ideally situated within a few miles of both Symmes Chapel ("Pretty Place") at Camp Greenville and Faith Memorial Chapel at Stone's Lake. The home's style, decor, custom features and expansiveness make it perfectly suited for wedding party accommodations, rehearsal dinners, receptions and other wedding-related events. The setting, both inside the home with its vaulted great room and outside on the deck or in the garden, provides excellent opportunities for wedding photos. Be sure to make plans for your photographer to visit Deer Lodge for photos before or after the ceremony.
If you are planning your wedding at "Pretty Place", Deer Lodge will allow you and your guests to spend the night just four miles from the chapel. Faith Memorial Chapel at Stone's Lake is a similar distance away. With the lodge accommodating twelve in six bedrooms, three with bathrooms en suite, your entire party will be comfortable. Brides will be sure to enjoy the large Master Suite with fireplace and its mirrored dressing room as they and their attendants prepare for the big day. Please reach us with any questions regarding Pretty Place or Faith Chapel weddings. We can help you plan flowers, catering and other arrangements.
With six bedrooms and five and a half bathrooms (sleeping 12 guests), this 5,000 square foot property and its formal dining room, great room, wet bar, large deck and other common areas can accommodate large groups of family or friends. It's perfect for weddings, holidays, parties, reunions or simple mountain getaways.