Assault on the Carolinas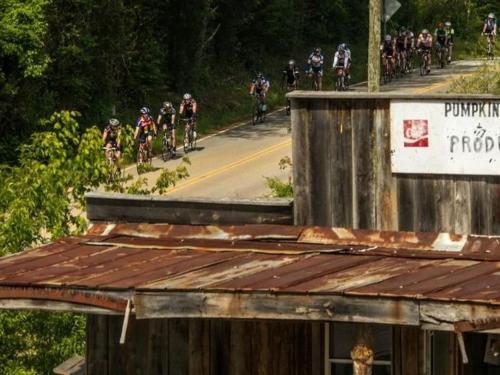 The Assault on the Carolinas is the annual fundraiser for the Pisgah Forest Rotary Club. The Assault offers 100k, 60k, and 40k rides. The 100k goes through the North Carolina and South Carolina mountains and valleys. It is a fully supported ride with 4 well stocked rest stops and a challenging 6 mile climb up Ceasar's Head. The 60 and 40k go through the river valleys of scenic Transylvania County.
The Assault on The Carolinas has three featured rides that are fully supported with well-stocked rest stops, bathroom facilities, traffic support at major intersections, well marked courses, and a hot lunch after the ride. All rides start and finish on Main Street in downtown Brevard just a couple of blocks from Campbell House. From the Campbell House balcony you can watch the entire field of 1000 riders come right by.
Riders can choose between the 100K ( 65.8 miles), 60K (37 miles), and 40K (25 miles) options. All rides begin at 9:00am and start and finish at the Water Oak Suites Building on the Corner of East Main and Johnson Street. This 100k has it all from flats, rolling hills, the Walnut Hollow climb, fast descents, and a grueling 6-mile climb up Caesars Head near the North Carolina-South Carolina border. This ride will take you through the river valleys of Transylvania County, up Walnut Hollow, and up and over Highway 178. Hwy 178 offers some amazing descents, with miles of curves, that will be enjoyed by all. Once riders cross Hwy 11 in South Carolina they will stretch out their legs on some rolling hills and flat sections. Then riders reach the bottom of Caesars Head they begin a challenging 6 mile climb to the top. Once over Caesars head it's @ 15 miles back to Brevard with more descents, flats, and a ride back through the river valley. This ride has 4 rest stops.
The 60K riders will get to test their climbing abilities on Walnut Hollow, which is a local favorite. Walnut hollow is a steep challenging climb that is sure to get everyone's heart pumping. The climb is 1.1 mile with grades reaching 15%. After climbing Walnut Hollow riders will enjoy a nice rolling ride home through the French Broad River Valley. The 60k has 2 fully stocked rest stops.
The 40K Ride goes through the scenic river valleys of Transylvania County and features some rolling hills and great scenery. This ride has 2 rest stops.
For more informationon the event you can visit the Assault on the Carolinas Facebook page HERE.